​Buyer's Guide: A Comprehensive Look At Winches For The Arctic Cat Prowler And Wildcat
Jan 16th 2023
Buying an Arctic Cat Wildcat winch or an Arctic Cat Prowler winch isn't a difficult feat to accomplish. What is difficult, however, is buying a high-quality UTV winch at a reasonable price. Yes, there are many cheap options out there that won't set you back too much. But many of these electric winches aren't that great, and few will last the test of time – especially if used improperly. Furthermore, even if you manage to find a quality side-by-side winch for your Arctic Cat Prowler or Wildcat, it might not come with the appropriate winch mount for your particular vehicle. So if you can't find the right mounting bracket for the winch you've got, or if you're starting from scratch and wanting to find a complete winch kit for your Prowler, Wildcat, or Wildcat XX, keep on reading, because in this winch buyer's guide, we're going to take a comprehensive look at the best winches for Arctic Cat UTVs!
Size Matters!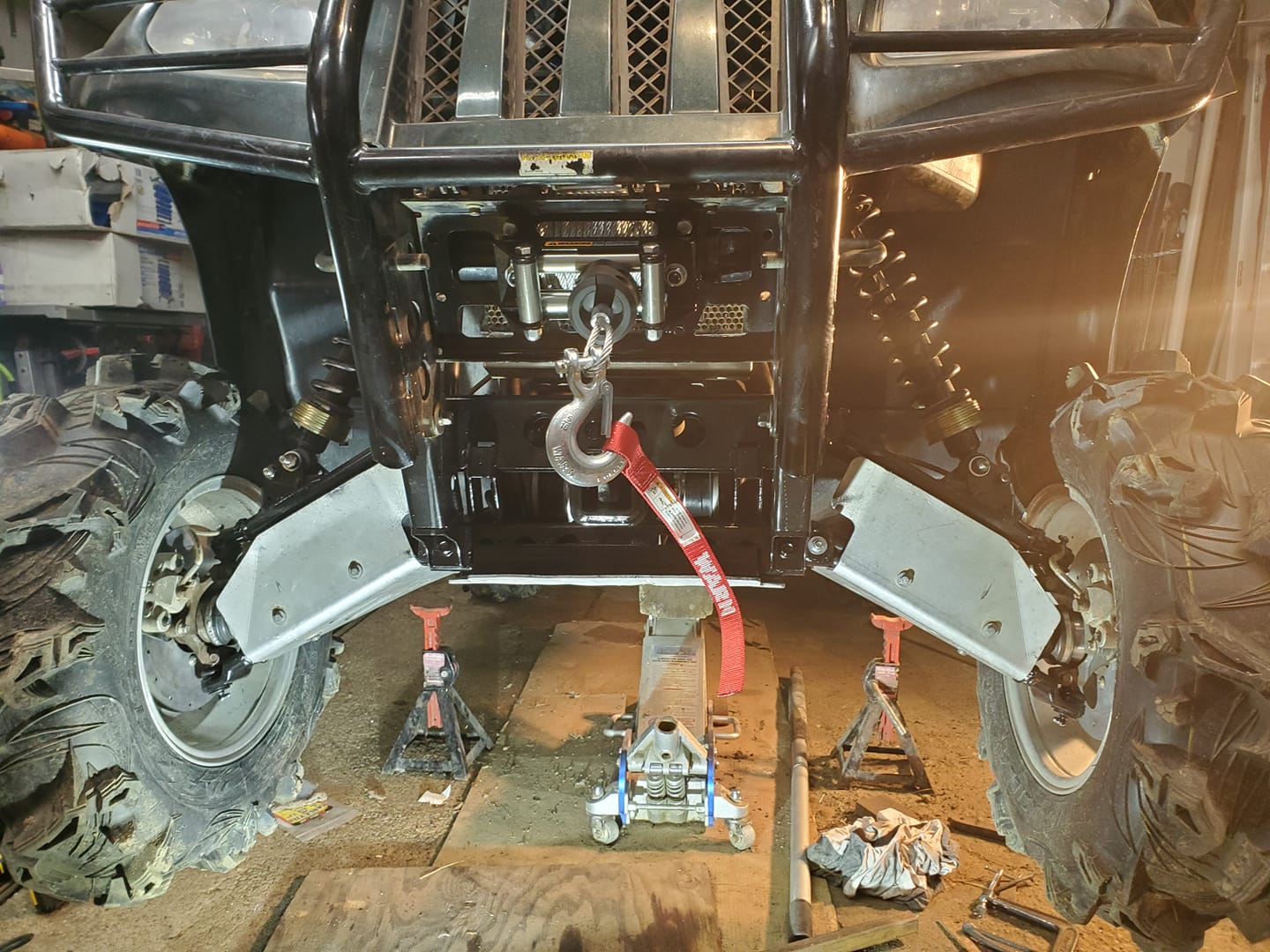 While you might not need a monster-sized UTV winch, a good rule of thumb is that you should get a winch that's rated to pull at least 1.5 times the weight of your vehicle. It's one thing to have a winch capable of pulling a 2,000 Lb machine on wheels over flat ground, but when you're hung up in heavy mud or stuck on an incline, a small 2,000 Lb winch will likely be insufficient!
For 2-seat or 3-seat Arctic Cat side-by-sides, a 3,000 - 3,5000 Lb winch can work. For the larger 4-passenger or 6-passenger Prowler Pros or Wildcat 4 1000s, a 4,500 Lb or 5,000 Lb winch is a safe bet. Even if you rarely use it, you'll be glad you have the extra pulling power when you do!
Cable Wire Winches Vs Synthetic Rope Winches
Many riders have strong feelings about the type winch they use. Some argue that cable winches are better, while others are adamant about the superiority of synthetic winches. But when you get down to it, both styles of winches / winch lines have their own set of pros and cons.
All else being equal, synthetic winches are lighter than cable winches. And although they do have some elasticity to them, synthetic rope winch lines don't whip backwards with the same amount of force as cable winch lines after snapping. Consequently, in addition to not needing gloves – like you might with a cable winch line to avoid cutting yourself on sharp, protruding, metal fibers – you may also not need a line damper for safety purposes when using a synthetic winch!
Some riders argue that the tensile strength of a synthetic winch line is stronger than that of a steel winch line. But there are many factors that contribute to the strength of a winch line. If, for example, you get your synthetic line wet / muddy and spool it in before it's clean and dry, you could be diminishing its strength over time. Similarly, if you wrap a synthetic winch line around a tree or fence post, you could also be making it weaker due to abrasion.
Top Arctic Cat UTV Winch Brands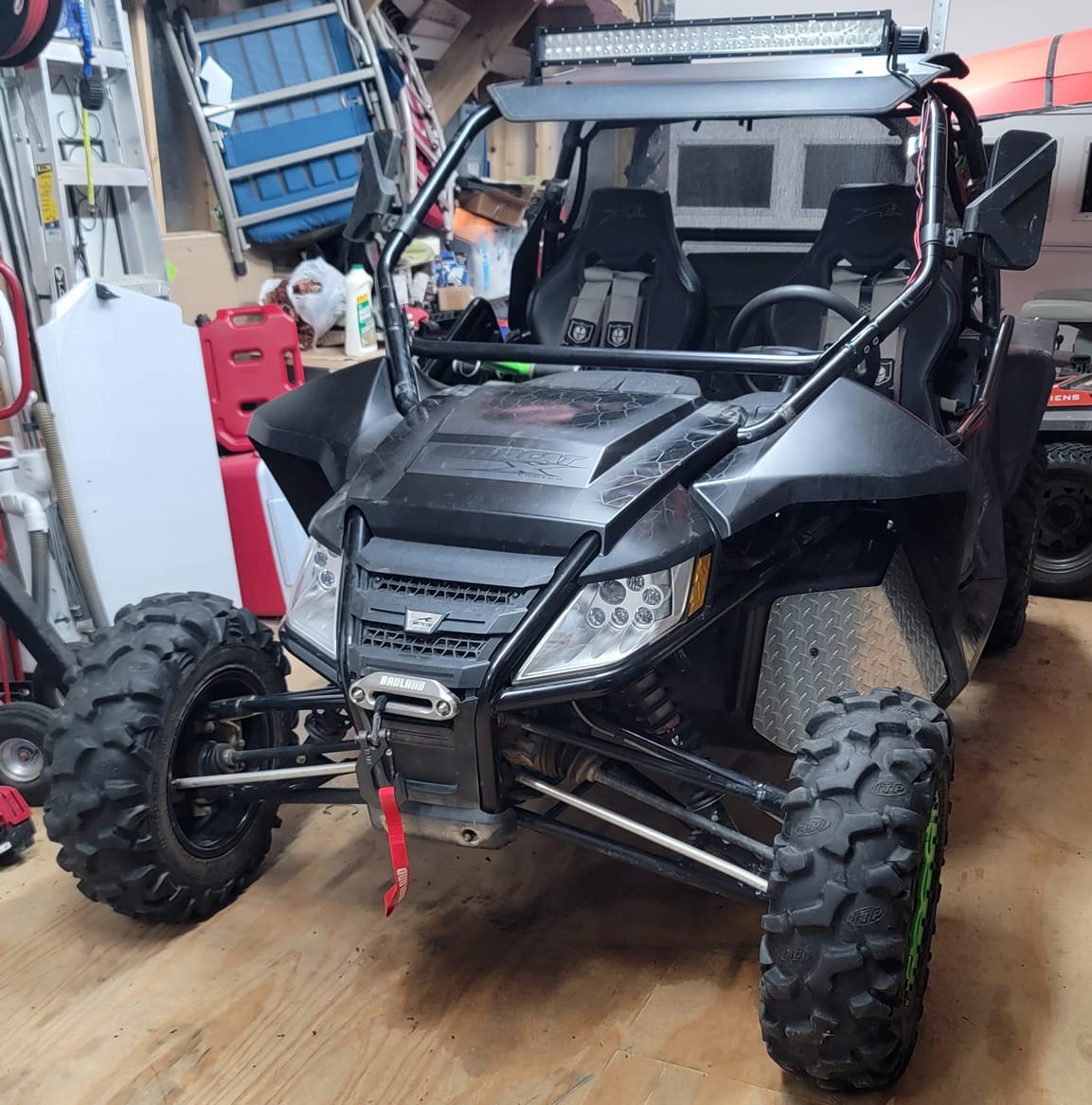 We've talked about winch lines and winch sizes, but as far as winch brands go, there are a few that stand out from the crowd!
KFI Winches
From their 4,500 Lb Stealth winches to their 5,000 Lb wide-Spool Assault winches, KFI sure does make amazing winches and winch kits for the Arctic Cat Wildcat and Prowler. Almost every KFI winch comes with two types of controllers – a wired remote as well as an in-dash rocker switch. And if you opt for one of their wide-spool options, you'll expand your reach greatly with a 52-foot line!
SuperATV Winches
The off-road firm SuperATV makes a variety of different aftermarket accessories for the Arctic Cat lineup of Prowler and Wildcat side-by-sides. Among them are high-quality winches! Specifically, their 6,000 Lb Black Ops winch sets itself apart from the others due to its 1.9 HP motor and water-resistant wireless remote. With a range of close to 50', you can operate this winch without having to leave dry ground!
Warn Winches
You might have heard of Warn before, and that's because they've been around for a while. And throughout their many years in the winch business, Warn has been fine-tuning their products to create winches that are tougher, more reliable, and longer lasting than the competition. For a durable winch that works hard when you need it to, the Warn VRX is a solid option!
Honorable Mentions
We cannot conclude this discussion of Arctic Cat Prowler and Wildcat winches without mentioning Rough Country, Kimpex, and Kolpin. Stick with these or any of the winches by Warn, SuperATV, or KFI, and you're sure to be happy! Use them for recovery, use them for landscaping applications, or use them to operate implements like plows and hoists. But whatever you do, you'll get the best winches at unbelievable prices when shopping here at Everything Arctic Cat Offroad!